携帯型医療機器
Portable medical device use is rapidly expanding as advancements in wireless technologies have increased patients' mobility at hospital or at home. Devices are used in ever-increasing applications such as cardiac, respiratory, and fitness & wellness and include the following: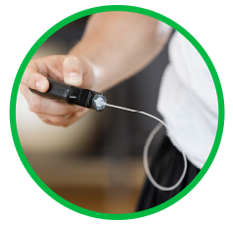 Respiratory products such as apnea monitors and continuous positive airway pressure (CPAP) machines
Heart monitors such as electrocardiogram monitors
Blood glucose meters and insulin infusion pumps
Blood pressure monitors
Pulse oximeters
Ultrasound devices
Low-cost sensor technologies, low power consumption, repeatability, and reliability are critical elements for portable medical devices that patients can use in the comfort of their homes.
ON Semiconductor's solutions enable the benefits of small size and portability for design engineers and patients without sacrificing functionality through two key areas: Bluetooth® Low Energy and miniaturization.
Our Bluetooth 5 certified technology offers the industry's lowest power consumption and advanced wireless features without compromising system size and battery life.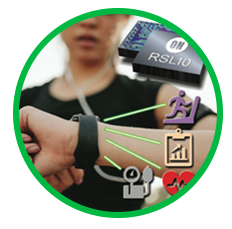 ON Semiconductor is a pioneer in the development of miniaturized System-in-Package (SiP) solutions for the medical microelectronics industry through its in-house Advanced Packaging Technology and FDA Compliant Manufacturing.
Additional capabilities include:
Low power, high precision A/D converters and sensor interface
Low voltage and/or low leakage process technologies
Microcores and other digital Intellectual Property
Embedded NV memory (EEPROM, OTP, FLASH) for program, data and configuration storage