NCP163: LDOレギュレータ、250 mA、超高PSRR、超低ノイズ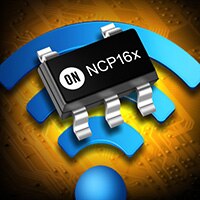 NCP163は、250 mAの出力電流を供給できるLDO(低ドロップアウト・レギュレータ)です。RF/アナログ回路の要件を満たすよう設計されたNCP163は、低ノイズ、高PSRR、低静止電流で、負荷/活線過渡が非常に優れています。1 µF入力1 µF出力のセラミック・キャパシタと連携する設計です。2つの超薄型0.35P、0.65 mm x 0.65 mmチップ・スケール・パッケージ(CSP)、XDFN−4 0.65P、1 mm x 1 mm TSOP5パッケージで提供されます。
特長
利点

Ultra High PSRR 92dB at 1 kHz, 60dB at 100 kHz

Excellent for power sensitive device like Wi-Fi module

Ultra Low Output Noise 6.5 µVRMS

Very well suited for noise sensitive application

Ultra Low Quiescent current 12 µA

Improved efficiency during light load conditions

Operating Input Voltage Range 2.2V to 5.5V

Suitable for battery powered device

Very Low Dropout 80mV at 250mA

Low power dissipation at full load

Available in 0.64mm x 0.64 mm CSP4 0.35P and 1mm x 1mm XDFN4 0.65P Packages

Great for space constraint application

Available in TSOP5 Package

Suitable for applications requiring leaded package
アプリケーション
最終製品

A/D and D/A Converters Power supply
Audio codec
Battery Powered Equipment
Camera module
Precision Analog Circuits
RF Modules
LP5907 or LP5910 Upgrade

Cameras and camcoders
Smartphones
Tablets
Wireless Routers
| | | |
| --- | --- | --- |
| | | Interactive Block Diagram |
Case Outline
NCP163AFCS120T2G
Active
NCP163, 1.2 V, Active Discharge
WLCSP-4
567KA
1
260
Tape and Reel
5000
$0.1113
NCP163AFCS180T2G
Active
NCP163, 1.8 V, Active Discharge
WLCSP-4
567KA
1
260
Tape and Reel
5000
$0.1113
NCP163AFCS250T2G
Lifetime
NCP163, 2.5 V, Active Discharge
WLCSP-4
567KA
1
260
Tape and Reel
5000
$0.1113
NCP163AFCS260T2G
Active
NCP163, 2.6 V, Active Discharge
WLCSP-4
567KA
1
260
Tape and Reel
5000
$0.1113
NCP163AFCS270T2G
Active
NCP163, 2.7 V, Active Discharge
WLCSP-4
567KA
1
260
Tape and Reel
5000
$0.1113
NCP163AFCS280T2G
Active
NCP163, 2.8 V, Active Discharge
WLCSP-4
567KA
1
260
Tape and Reel
5000
$0.1113
NCP163AFCS285T2G
Lifetime
NCP163, 2.85 V, Active Discharge
WLCSP-4
567KA
1
260
Tape and Reel
5000
$0.1113
NCP163AFCS290T2G
Active
NCP163, 2.9 V, Active Discharge
WLCSP-4
567KA
1
260
Tape and Reel
5000
$0.1113
NCP163AFCS2925T2G
Lifetime
NCP163, 2.925 V, Active Discharge
WLCSP-4
567KA
1
260
Tape and Reel
5000
$0.1113
NCP163AFCT120T2G
Active
NCP163, 1.2 V, Active Discharge
WLCSP-4
567JZ
1
260
Tape and Reel
5000
$0.1113
NCP163AFCT180T2G
Active
NCP163, 1.8 V, Active Discharge
WLCSP-4
567JZ
1
260
Tape and Reel
5000
$0.1113
NCP163AFCT250T2G
Active
NCP163, 2.5 V, Active Discharge
WLCSP-4
567JZ
1
260
Tape and Reel
5000
$0.1113
NCP163AFCT260T2G
Active
NCP163, 2.6 V, Active Discharge
WLCSP-4
567JZ
1
260
Tape and Reel
5000
$0.1113
NCP163AFCT270T2G
Active
NCP163, 2.7 V, Active Discharge
WLCSP-4
567JZ
1
260
Tape and Reel
5000
$0.1113
NCP163AFCT280T2G
Active
NCP163, 2.8 V, Active Discharge
WLCSP-4
567JZ
1
260
Tape and Reel
5000
$0.1113
NCP163AFCT285T2G
Lifetime
NCP163, 2.85 V, Active Discharge
WLCSP-4
567JZ
1
260
Tape and Reel
5000
$0.1113
NCP163AFCT290T2G
Lifetime
NCP163, 2.9 V, Active Discharge
WLCSP-4
567JZ
1
260
Tape and Reel
5000
$0.1113
NCP163AFCT2925T2G
Active
NCP163, 2.925 V, Active Discharge
WLCSP-4
567JZ
1
260
Tape and Reel
5000
$0.1113
NCP163AFCT300T2G
Lifetime
NCP163, 3.0 V, Active Discharge
WLCSP-4
567JZ
1
260
Tape and Reel
5000
$0.1113
NCP163AFCT330T2G
Active
NCP163, 3.3 V, Active Discharge
WLCSP-4
567JZ
1
260
Tape and Reel
5000
$0.1113
NCP163AMX120TBG
Active
NCP163, 1.2 V, Active Discharge
XDFN-4
711AJ
1
260
Tape and Reel
3000
$0.1144
NCP163AMX130TBG
Active
NCP163, 1.3 V, Active Discharge
XDFN-4
711AJ
1
260
Tape and Reel
3000
$0.1144
NCP163AMX150TBG
Lifetime
NCP163, 1.5 V, Active Discharge
XDFN-4
711AJ
1
260
Tape and Reel
3000
$0.1144
NCP163AMX180TBG
Active
NCP163, 1.8 V, Active Discharge
XDFN-4
711AJ
1
260
Tape and Reel
3000
$0.1144
NCP163AMX1825TBG
Active
NCP163, 1.825 V, Active Discharge
XDFN-4
711AJ
1
260
Tape and Reel
3000
$0.1144
NCP163AMX190TBG
Lifetime
NCP163, 1.9 V, Active Discharge
XDFN-4
711AJ
1
260
Tape and Reel
3000
$0.1144
NCP163AMX250TBG
Lifetime
NCP163, 2.5 V, Active Discharge
XDFN-4
711AJ
1
260
Tape and Reel
3000
$0.1144
NCP163AMX260TBG
Lifetime
NCP163, 2.6 V, Active Discharge
XDFN-4
711AJ
1
260
Tape and Reel
3000
$0.1144
NCP163AMX270TBG
Active
NCP163, 2.7 V, Active Discharge
XDFN-4
711AJ
1
260
Tape and Reel
3000
$0.1144
NCP163AMX275TBG
Lifetime
NCP163, 2.75 V, Active Discharge
XDFN-4
711AJ
1
260
Tape and Reel
3000
$0.1144
NCP163AMX280TBG
Active
NCP163, 2.8 V, Active Discharge
XDFN-4
711AJ
1
260
Tape and Reel
3000
$0.1144
NCP163AMX285TBG
Lifetime
NCP163, 2.85 V, Active Discharge
XDFN-4
711AJ
1
260
Tape and Reel
3000
$0.1144
NCP163AMX290TBG
Active
NCP163, 2.9 V, Active Discharge
XDFN-4
711AJ
1
260
Tape and Reel
3000
$0.1144
NCP163AMX300TBG
Active
NCP163, 3.0 V, Active Discharge
XDFN-4
711AJ
1
260
Tape and Reel
3000
$0.1144
NCP163AMX330TBG
Active
NCP163, 3.3 V, Active Discharge
XDFN-4
711AJ
1
260
Tape and Reel
3000
$0.1144
NCP163AMX500TBG
Active
NCP163, 5.0 V, Active Discharge
XDFN-4
711AJ
1
260
Tape and Reel
3000
$0.1144
NCP163ASN150T1G
Active
NCP163, 1.5V, Active Discharge, TSOP5
SOT-23-5
527AH
1
260
Tape and Reel
3000
$0.1433
NCP163ASN180T1G
Active
NCP163, 1.8 V, Active Discharge, TSOP5
SOT-23-5
527AH
1
260
Tape and Reel
3000
$0.1433
NCP163ASN250T1G
Active
NCP163, 2.5 V, Active Discharge, TSOP5
SOT-23-5
527AH
1
260
Tape and Reel
3000
$0.1433
NCP163ASN270T1G
Active
NCP163, 2.7 V, Active Discharge, TSOP5
SOT-23-5
527AH
1
260
Tape and Reel
3000
$0.1433
NCP163ASN280T1G
Active
NCP163, 2.8 V, Active Discharge, TSOP5
SOT-23-5
527AH
1
260
Tape and Reel
3000
$0.1433
NCP163ASN300T1G
Active
NCP163, 3.0 V, Active Discharge, TSOP5
SOT-23-5
527AH
1
260
Tape and Reel
3000
$0.1433
NCP163ASN330T1G
Active
NCP163, 3.3 V, Active Discharge, TSOP5
SOT-23-5
527AH
1
260
Tape and Reel
3000
$0.1433
NCP163ASN500T1G
Active
NCP163, 5.0 V, Active Discharge, TSOP5
SOT-23-5
527AH
1
260
Tape and Reel
3000
$0.1433
NCP163BFCS180T2G
Active
NCP163, 1.8 V, Non-Active Discharge
WLCSP-4
567KA
1
260
Tape and Reel
5000
$0.1113
NCP163BFCS2925T2G
Lifetime
NCP163, 2.925 V, Non-Active Discharge
WLCSP-4
567KA
1
260
Tape and Reel
5000
$0.1113
NCP163BFCT180T2G
Lifetime
NCP163, 1.8 V, Non-Active Discharge
WLCSP-4
567JZ
1
260
Tape and Reel
5000
$0.1113
NCP163BFCT2925T2G
Lifetime
NCP163, 2.925 V, Non-Active Discharge
WLCSP-4
567JZ
1
260
Tape and Reel
5000
$0.1113
NCP163BMX180TBG
Active
NCP163, 1.8 V, Non-Active Discharge
XDFN-4
711AJ
1
260
Tape and Reel
3000
$0.1144
NCP163BMX1825TBG
Active
NCP163, 1.825 V, Non-Active Discharge
XDFN-4
711AJ
1
260
Tape and Reel
3000
$0.1144
NCP163BMX275TBG
Lifetime
NCP163, 2.75 V, Non-Active Discharge
XDFN-4
711AJ
1
260
Tape and Reel
3000
$0.1144
NCP163CFCS285T2G
Active
NCP163, 2.85 V, Acttive Discharge
WLCSP4, 0.64x0.64x0.40
567XW
1
260
Tape and Reel
10000
Contact Sales Office
| | | |
| --- | --- | --- |
| マーケットリードタイム(週) | : | Contact Factory |
| ON Semiconductor (2020-09-02 00:00) | : | 375,000 |
| | | |
| --- | --- | --- |
| マーケットリードタイム(週) | : | Contact Factory |
| ON Semiconductor (2020-09-02 00:00) | : | 180,000 |
| | | |
| --- | --- | --- |
| マーケットリードタイム(週) | : | Contact Factory |
| | | |
| --- | --- | --- |
| マーケットリードタイム(週) | : | 13 to 16 |
| | | |
| --- | --- | --- |
| マーケットリードタイム(週) | : | Contact Factory |
| | | |
| --- | --- | --- |
| マーケットリードタイム(週) | : | 4 to 8 |
| ON Semiconductor (2020-09-02 00:00) | : | 140,000 |
| | | |
| --- | --- | --- |
| マーケットリードタイム(週) | : | Contact Factory |
| ON Semiconductor (2020-09-02 00:00) | : | 360,000 |
| | | |
| --- | --- | --- |
| マーケットリードタイム(週) | : | Contact Factory |
| | | |
| --- | --- | --- |
| マーケットリードタイム(週) | : | Contact Factory |
| | | |
| --- | --- | --- |
| マーケットリードタイム(週) | : | Contact Factory |
| ON Semiconductor (2020-09-02 00:00) | : | 80,000 |
| Avnet (2020-08-19 00:00) | : | >1K |
| | | |
| --- | --- | --- |
| マーケットリードタイム(週) | : | 8 to 12 |
| ON Semiconductor (2020-09-02 00:00) | : | 90,000 |
| | | |
| --- | --- | --- |
| マーケットリードタイム(週) | : | Contact Factory |
| | | |
| --- | --- | --- |
| マーケットリードタイム(週) | : | Contact Factory |
| | | |
| --- | --- | --- |
| マーケットリードタイム(週) | : | 8 to 12 |
| ON Semiconductor (2020-09-02 00:00) | : | 10,000 |
| | | |
| --- | --- | --- |
| マーケットリードタイム(週) | : | Contact Factory |
| ON Semiconductor (2020-09-02 00:00) | : | 105,000 |
| | | |
| --- | --- | --- |
| マーケットリードタイム(週) | : | 13 to 16 |
| | | |
| --- | --- | --- |
| マーケットリードタイム(週) | : | Contact Factory |
| | | |
| --- | --- | --- |
| マーケットリードタイム(週) | : | Contact Factory |
| ON Semiconductor (2020-09-02 00:00) | : | 65,000 |
| | | |
| --- | --- | --- |
| マーケットリードタイム(週) | : | Contact Factory |
| | | |
| --- | --- | --- |
| マーケットリードタイム(週) | : | Contact Factory |
| | | |
| --- | --- | --- |
| マーケットリードタイム(週) | : | Contact Factory |
| ON Semiconductor (2020-09-02 00:00) | : | 21,000 |
| | | |
| --- | --- | --- |
| マーケットリードタイム(週) | : | Contact Factory |
| | | |
| --- | --- | --- |
| マーケットリードタイム(週) | : | 13 to 16 |
| | | |
| --- | --- | --- |
| マーケットリードタイム(週) | : | Contact Factory |
| ON Semiconductor (2020-09-02 00:00) | : | 39,000 |
| | | |
| --- | --- | --- |
| マーケットリードタイム(週) | : | Contact Factory |
| ON Semiconductor (2020-09-02 00:00) | : | 6,000 |
| | | |
| --- | --- | --- |
| マーケットリードタイム(週) | : | Contact Factory |
| | | |
| --- | --- | --- |
| マーケットリードタイム(週) | : | Contact Factory |
| | | |
| --- | --- | --- |
| マーケットリードタイム(週) | : | Contact Factory |
| | | |
| --- | --- | --- |
| マーケットリードタイム(週) | : | Contact Factory |
| | | |
| --- | --- | --- |
| マーケットリードタイム(週) | : | Contact Factory |
| | | |
| --- | --- | --- |
| マーケットリードタイム(週) | : | Contact Factory |
| | | |
| --- | --- | --- |
| マーケットリードタイム(週) | : | Contact Factory |
| | | |
| --- | --- | --- |
| マーケットリードタイム(週) | : | Contact Factory |
| Avnet (2020-08-19 00:00) | : | >1K |
| | | |
| --- | --- | --- |
| マーケットリードタイム(週) | : | Contact Factory |
| | | |
| --- | --- | --- |
| マーケットリードタイム(週) | : | Contact Factory |
| FutureElectronics (2020-08-19 00:00) | : | >1K |
| Avnet (2020-08-19 00:00) | : | >1K |
| | | |
| --- | --- | --- |
| マーケットリードタイム(週) | : | 17 to 20 |
| | | |
| --- | --- | --- |
| マーケットリードタイム(週) | : | Contact Factory |
| | | |
| --- | --- | --- |
| マーケットリードタイム(週) | : | Contact Factory |
| Avnet (2020-08-19 00:00) | : | >1K |
| ON Semiconductor (2020-09-02 00:00) | : | 117,000 |
| | | |
| --- | --- | --- |
| マーケットリードタイム(週) | : | Contact Factory |
| | | |
| --- | --- | --- |
| マーケットリードタイム(週) | : | Contact Factory |
| | | |
| --- | --- | --- |
| マーケットリードタイム(週) | : | Contact Factory |
| | | |
| --- | --- | --- |
| マーケットリードタイム(週) | : | Contact Factory |
| | | |
| --- | --- | --- |
| マーケットリードタイム(週) | : | Contact Factory |
| ON Semiconductor (2020-09-02 00:00) | : | 50,000 |
| | | |
| --- | --- | --- |
| マーケットリードタイム(週) | : | Contact Factory |
| ON Semiconductor (2020-09-02 00:00) | : | 50,000 |
| | | |
| --- | --- | --- |
| マーケットリードタイム(週) | : | Contact Factory |
| ON Semiconductor (2020-09-02 00:00) | : | 55,000 |
| | | |
| --- | --- | --- |
| マーケットリードタイム(週) | : | Contact Factory |
| | | |
| --- | --- | --- |
| マーケットリードタイム(週) | : | Contact Factory |
| | | |
| --- | --- | --- |
| マーケットリードタイム(週) | : | Contact Factory |
| | | |
| --- | --- | --- |
| マーケットリードタイム(週) | : | Contact Factory |
Product
Description
Pricing ($/Unit)
Compliance
Status
Output
Polarity
VO (V)
IO Typ (A)
VI Min (V)
VI Max (V)
VDO Typ (V)
Iq Typ (mA)
PSRR (dB)
Noise (µVrms)
Enable
PowerGood
Application
Package Type
Application
Diagram - Block
新製品
NCV8187
:
1.2 A LDO Regulator
Low Iq of 30 µA typical over full temperature range
High PSRR of 85 dB at 1 kHz for power stability
Low noise of 9 µV(RMS)
NCV8730
:
150 mA LDO Regulator
Low quiescent current of 1 µA typical, and shutdown current of 100 nA typical
Wide operating input voltage range of 2.7 to 38 V
Low dropout of 290 mV typical @ 150 mA, 3.3 V
Your request has been submitted for approval.
Please allow 2-5 business days for a response.
You will receive an email when your request is approved.
Request for this document already exists and is waiting for approval.