Selected ADAS, Viewing & Autonomous Vehicles Solution
戻る ADAS, Viewing & Autonomous Vehicles solution
LIDAR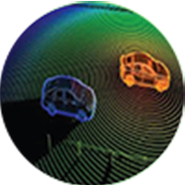 LiDAR is a critical element in the fusion of sensor modalities required to enable L3-L5 autonomous driving. LiDAR provides high-resolution depth data, enabling object identification capabilities that are not possible with radar or cameras alone. ON Semiconductor is at the forefront of sensor technology and other system elements that enable the next generation of LiDAR systems. Our core sensor technology is sensitive to individual photons while also being able to operate in direct ambient sunlight conditions. Silicon Photomultipliers (SiPMs) are detectors built on Single Photon Avalanche Diodes (SPADs) to allow for systems to range to the most distant objects, even when they are minimally reflective. SPAD arrays are time-of-flight image sensors that allow for high-resolution 4D imaging, capturing depth data and intensity simultaneously from all of the points in the scene. Alongside key sensor technology and system components, ON Semiconductor offers wide-ranging LiDAR design support materials.
Products
The RB-Series is a family of NIR-enhanced Silicon Photomultipliers (SiPM) for LiDAR and ranging applications using near-infrared illumination such as 905nm and 940nm.

Within the Internet of Things (IoT), there are an increasing number of ranging and sensing applications looking to benefit from low-power, high performance SiPM technology.

Technical Documents
This white paper is intended to assist in the development of SiPM (Silicon Photomultiplier) based LiDAR (Light Detection and Ranging) systems. The following sections contain information on the design and implementation of a direct ToF (Time-of-Flight) rangefinder, in terms of the laser, timing and optical parameters and detailed analysis of key aspects that must be considered when integrating SiPMs in such systems.

These sensors are now at the forefront of the most innovative developments for LiDAR applications in ADAS (Advanced Driver Assistance Systems) and autonomous vehicles.

Depth sensing with precise measurements is a requirement for many applications in today'smarkets, including industrial, consumer, and automotive.