In-Vehicle Networking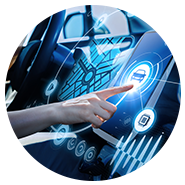 Today, most of us believe that our cars, trucks, and SUVs run on some type of fuel, when that is not totally the truth. In fact, if it were not for copper wire, our light vehicles would not run at all. A luxury car or SUV today could have over 70 pounds of copper wire in it, not including the weight of every relay or fuse hanging off the end of it somewhere. Through the use of ON Semiconductor In-Vehicle Networking (IVN) products, today's automotive engineers are eliminating this wire, by using our components to reduce the number of wires needed to connect systems throughout the vehicle. ON Semiconductor supplies products and solutions that support a broad base of network options, from simple messaging to fail-safe messaging. Our extensive product families of LIN and CAN products, and our ability to create Systems Basis Chips (SBC) from our analog IP, enables us to service a wide variety of connectivity applications in the vehicle. Beyond LIN and CAN, ON Semiconductor supports FlexRay for control of powertrain safety critical activities, as well as Ethernet for active safety requirements.
ソリュ
対話式ブロック・ダイアグラム


Download Strata Software
The Strata Developer Studio is a cloud-connected development platform that provides a seamless, personalized and secure environment for engineers to evaluate and design with ON Semiconductor technologies.