Selected Vehicle Electrification Solution
戻る Vehicle Electrification solution
48V Starter Generator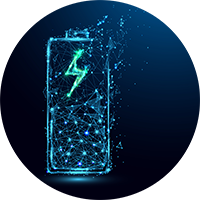 <!==Long Description>
Best-in-class Automotive Power Modules (APMs), automotive MOSFETs, and automotive Gate Drivers allow customers to maximize power density, efficiency and reliability for their 48V Belt Starter Generator (BSG) and Integrated Starter Generator (ISG) designs. Customers can design BSG and ISG power stages that address 5kW up to 25+kW for 48V Mild Hybrid Electric Vehicles (MHEV) using ON Semiconductor solutions.
Mild Hybrid Electric Vehicles (MHEV) are an interim step in the evolution from the internal combustion engine (ICE) to Electric Vehicles (EV). MHEVs reduce the average CO2 emissions from vehicles by adding a BSG/ISG to augment the standard ICE, do not require any type of charging from the electrical grid, and maintain consumer expectations for vehicle performance. An MHEV achieves this functionality by converting to a dual battery system that provides a 12V battery and a 48V lithium-ion battery. MHEVs also implement a medium voltage to low voltage (48V to 12V) DCDC module to charge the 12V battery.
The 48V lithium-ion battery supplies the BSG or ISG inverter power stage and the 12V battery powers other existing 12V modules. The 12V battery can also be used as an alternate power source for the low power electronics in a 48V module. The BSG or ISG is capable of start-stop functionality, electric drive, electric boost, and regenerative power to the 48V battery while coasting or braking depending on implementation within the automotive powertrain. The typical power output range for a BSG is 5kW to 12+kW, and an ISG is 5kw to 25+kW. Classification of the BSG and ISG is not enough by name alone. There are locations designated as P0, P1, P2, P3 and P4 on the vehicle and these positions affect the method for mechanical connection, system efficiencies and losses, and functional capabilities of the BSG or ISG. While a BSG will be limited to lower power levels due to the mechanical connection of the belt, an ISG unit is capable of higher power levels because it does not have this belt limitation. An ISG either links directly to the ICE crankshaft, the input shaft of the transmission through a belt, vehicle transmission through a gear mesh, or the rear axle system through a gear mesh. BSG and ISG modules use air or liquid cooling to help with thermal management.
ON Semiconductor provides the best solutions to address your system requirements. Our premier automotive product portfolio for BSG and ISG covers Automotive Power Modules (APM), MOSFETs, Gate Drivers, In-Vehicle Networking (LIN, CAN, CAN-FD), analog signal chain (OpAmps, current shunt amplifiers, comparators), power supply ICs and System Basis Chips (SBCs).
Your request has been submitted for approval.
Please allow 2-5 business days for a response.
You will receive an email when your request is approved.
Request for this document already exists and is waiting for approval.