LIGHTING-1-GEVK: Connected Lighting Platform for LED Control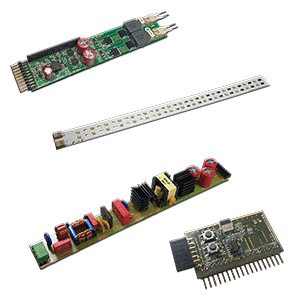 The Connected Lighting Platform is a modular development kit for prototyping cost-effective, industrial LED lighting solutions. The platform is extremely energy efficient and features wireless control (on/off, dimming, etc.) and two independently controlled LED channels that provide a maximum brightness of 7000 lumens.
The base platform comprises of four components:
An LED module, supporting 2 strings (warm white and cool white) of 16 LEDs
A Bluetooth(R) Low Energy connectivity board featuring RSL10 SIP
An AC/DC power board (Vin AC: 90 - 270V, Vout DC: 55V, Pout electrical: 70W, Power Factor > 0.99 at full load)
An LED driver board featuring FL7760 (Dimming down to 0.6%, Telemetry data, 12-bit PWM)
The platform provides several LED control functionalities using the RSL10 Sense and Control mobile app (IoS, Google Play) or web client. The platform is supported by a comprehensive development environment, including a CMSIS-Pack featuring customizable firmware, Free RTOS, and various use cases.
The PoE Power Module is available separately for Power Over Ethernet (PoE) connectivity up to 90 Watts.
特長およびアプリケーション
特長

High-power lighting features

Up to 2 Strings of 16 LEDs (7000 Lumen)
Dual independent LED Channel
White balance control (12-bit Dimmer from 0 to Max)

Multiple connectivity options

Bluetooth® Low Energy
Power Over Ethernet (PoE)

Compliant with multiple industry standards
High efficiency power conversion ( >90% at full load )
評価/開発ツール情報
製品
状態
Compliance
簡単な説明
使用パーツ
アクション
LIGHTING-1-GEVK
Active
Connected Lighting Platform for LED Control
ES1JFL , ES3D ,
FCPF400N80Z , FDC3535 ,
FDD10N20LZTM , FL7740MX ,
FL7760BM6X , GBU6K ,
MM3Z18VT1G , MMSZ22T1G ,
MMSZ4V3T1G , NCH-RSL10-101S51-ACG ,
NCP10671BD100R2G , NCP161ASN330T1G ,
NSBC114EPDXV6T1G , RURP1560-F085 ,
US1MFA
| | | |
| --- | --- | --- |
| FutureElectronics (2020-08-19) | : | 4 |
Your request has been submitted for approval.
Please allow 2-5 business days for a response.
You will receive an email when your request is approved.
Request for this document already exists and is waiting for approval.