RSL10-SENSE-GEVK: RSL10 Sensor Development Kit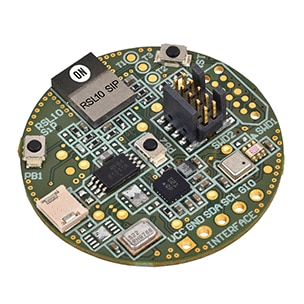 The RSL10 Sensor Development Kit is a compact and a comprehensive platform to easily develop IoT applications with leading sensor technology and the industry's lowest power Bluetooth ® Low Energy SoC. Several applications including industrial wearables, asset monitoring, smart sensing solutions can be easily developed on this platform.

The compact platform features a full range of sensors including environmental, inertial (3-axis accelerometer, 3-asix gyroscope and a low-power smart hub for motion sensing), a geomagnetic sensor, and an ambient light sensor. Example use cases and detailed documentation are provided in the CMSIS pack.
In addition to monitoring the various sensor values, the accompanying mobile application (RSL10 Sense and Control), connects to several cloud services (AWS, IBM&reg, Azure ™, etc.) enabling a true end-to-end solution development.

There are two variants of the RSL10 Sensor Kit:
RSL10-SENSE-GEVK (base version)

Both variants ship with a CR2032 coin cell battery and a flexible NFC Antenna. On the debug (-DB) variant, the 10-pin debug header is populated and a Segger J-Link LITE CortexM debugger that connects to this header is also shipped.

A needle connector (E.g.:TC2050 ) is required on the base variant for debugging.

Supported by the RSL10 Sense and Control mobile app for cloud connectivity(Google Play™) (iOS® ) for cloud connectivity


Bluetooth IoT Development Kit CMSIS-Pack

The Bluetooth IoT Development Kit CMSIS-Pack includes several example application projects. These projects allow for rapid development of various Bluetooth Low Energy use-cases such as asset monitoring, asset tracking, wireless sensor networks, worker safety wearables, energy harvesting, etc. The application code can be used as-is on supported hardware or can be used as a building block in creating a more complex use case. Each of the projects is accompanied by detailed documentation.
Veridify Security's Public Key Tools* Implement device-to-device security including authentication and data protection software for the RSL10 using Veridify's ISO 26262 ASIL D certified security tools. *Note: An RSL10 Sensor Development Kit is required for evaluation.
特長およびアプリケーション
特長

Based on the RSL10 System-in-Package (SiP)

Certified to international wireless regulations (CE, IC, KC, MIC, FCC)

Configurable, low-power sensors

BHI160 (Integrated low power smart hub, 3-axis accelerometer, 3-axis gyroscope)

BMM150 (Low Power, Low Noise 3-axis digital geomagnetic sensor)

BME680 (Integrated high-accuracy gas, pressure, humidity and temperature sensor)

INMP522 (Ultra-low noise digital Microphone)

APTF1616 (Programmable RGB LED)

N24RF64 (64kB NFC EEPROM)

3 programmable push-buttons

Supported by the RSL10 Sense and Control mobile app for cloud connectivity (Google Play™) (iOS&reg)
評価/開発ツール情報
| | | |
| --- | --- | --- |
| Avnet (2020-08-19) | : | 10 |
| FutureElectronics (2020-08-19) | : | 10 |
Your request has been submitted for approval.
Please allow 2-5 business days for a response.
You will receive an email when your request is approved.
Request for this document already exists and is waiting for approval.