SECO-1KW-MCTRL-GEVB: 1kW 600V Industrial Motor Control Power Board with Compact Intelligent Power Module (IPM)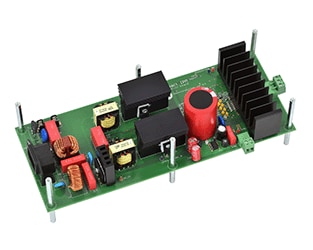 The SECO-1KW-MCTRL-GEVB is a complete reference design for three-phase motor drives, featuring the NFAQ1060L36T intelligent power module in a DIPS6 package. Rated for 230 Vac input and delivering up to 850W, all the necessary system blocks for a motor drive are part of the solution: EMC filtering and rectification stage, interleaved two-channel PFC, auxiliary power supplies, three-phase inverter and measurement and protection. The graphical user interface ensures an easy startup for evaluation purposes running voltage/frequency control. As part of the Motor Development Kit (MDK), the Compact IPM Motor Drive is compatible with the powerful Universal Controller Board (UCB) enabling high-end control strategies and AI capabilities for industrial motor control. The SECO-1KW-MCTRL-GEVB comprises of the 1kW power board and the hardware adaptor to the UCB.
特長およびアプリケーション
特長

Motor Development Kit (MDK)
Downloadable V/f and FOC control use cases for the UCB
850W Intelligent Power Module (IPM) three-phase motor driver
VIN: 230 Vac,rms ± 15% (single-phase)
IOUT: Irms 10 ARMS per phase
Compatible with three-phase motors: PMSM, BLDC or ACIM
DIP/6 IPM NFAQ1060L36T, three-phase/10A with integrated gate drivers
Cross-conduction, overcurrent and thermal protection embedded in DIPS6 module
Plug-in connector interface for MCU cards (Arduino DUE footprint)
Voltage/frequency control strategy implemented
NCS2250SN2T3G: Push Pull Output Comparator implemented in Itrip protection system

アプリケーション

White Goods (Washing Machines)
Industrial Fans
Industrial Automation
Industrial Motor Control
Your request has been submitted for approval.
Please allow 2-5 business days for a response.
You will receive an email when your request is approved.
Request for this document already exists and is waiting for approval.