SECO-1KW-MDK-GEVK: 1kW 600V Industrial Motor Development Kit (MDK) with Compact Intelligent Power Module (IPM) board and Universal Controller Board (UCB)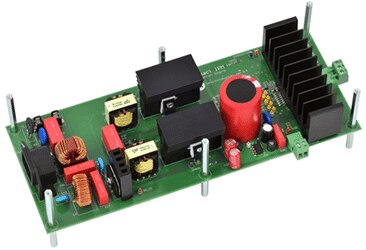 The SECO-1KW-MDK-GEVK is a complete reference design for three-phase motor drives, featuring the NFAQ1060L36T intelligent power module in a DIPS6 package, and part of the Motor Development Kit (MDK). Rated for 230 Vac input and delivering up to 850W. All the necessary system blocks for a motor drive are part of the solution: EMC filtering and rectification stage, interleaved two-channel PFC, auxiliary power supplies, three-phase inverter and measurement and protection. The graphical user interface ensures an easy startup for evaluation purposes running voltage/frequency control. As part of the MDK the Compact IPM power module motor drive is compatible with the powerful Universal Controller Board (UCB) enabling high-end control strategies and AI capabilities for industrial motor control. The SECO-1KW-MDK-GEVK comprises of the SECO-1KW-MCTRL-GEVB, the hardware adaptor to the UCB and the Universal Controller Board (UCB).
特長およびアプリケーション
特長

Motor Development Kit (MDK)
Downloadable V/f and FOC control use cases for the UCB
850W Intelligent Power Module (IPM) three-phase motor driver
VIN: 230 Vac,rms ± 15% (single-phase)
IOUT: Irms 10 ARMS per phase
Compatible with three-phase motors: PMSM, BLDC or ACIM
DIP/6 IPM NFAQ1060L36T, three-phase/10A with integrated gate drivers
Cross-conduction, overcurrent and thermal protection embedded in DIPS6 module
Plug-in connector interface for MCU cards (Arduino DUE footprint)
Voltage/frequency control strategy implemented
NCS2250SN2T3G: Push Pull Output Comparator implemented in ITRIP protection system
Use case pre-loaded and GUI available for a quick-start evaluation
Xilinx® development tools and environments are available for the MDK, such as Vitis and Vivado to program the FPGA

アプリケーション

White Goods (Washing Machines)
Industrial Fans
Industrial Automation
Industrial Motor Control
Your request has been submitted for approval.
Please allow 2-5 business days for a response.
You will receive an email when your request is approved.
Request for this document already exists and is waiting for approval.