On Board Charging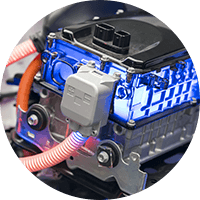 Plug-in hybrid/electric vehicles (xEV) include a high voltage battery sub-system that requires some form of external charging. Multiple methods to accomplish this task are available. Some of them are built into the vehicle itself (On Board Charger or OBC), while others are external and may be incorporated through a wired connection (Fixed Charger) or through wireless energy transfer (Wireless Charger).
The Plug-In Hybrid Electric Vehicles (PHEV) are equipped with an OBC, which is responsible for charging the battery. These chargers are built directly onto the PHEV itself, and therefore must be efficient and lightweight. They come in a variety of power levels, which correspond directly to the battery charge time. The chargers' power level is proportional to the amount of power available from the AC line input (120 VAC, 240 VAC, 3-phase, etc.) The most popular OBC power levels are 3.3 kW, 6.6 kW, 11 kW, and 22 kW; each of which corresponds to a different common AC power level.
Since OBCs are completely high-voltage systems, the most common semiconductor devices used are IGBTs, Superjunction MOSFETs, and SiC semiconductors. Typical chargers consist of many cascaded stages, namely: input rectification, power-factor correction, DC-DC conversion, isolation, output rectification, and output filtering.
On Board Charging Overview
Related Products
Related Information
Related Media