Taking USB-C™ PD Charging to the Next Level by Increasing Integration and Efficiency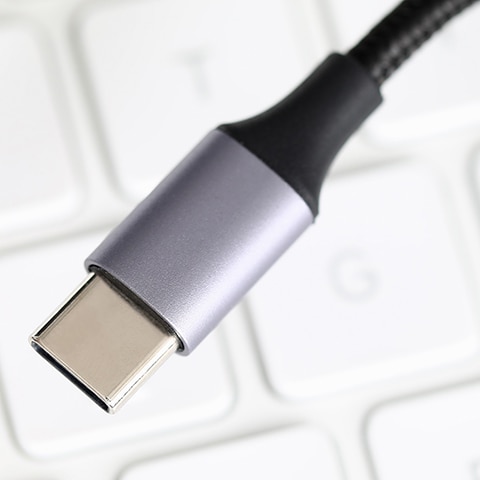 著者:
Julie Tyler
- 03-02-2020

USB-C is becoming a household term with regard to electronics and charging. For years, most homes have a variety of charging cables floating around and it seems someone is always misplacing "the one they need". According to IHS Markit data, the penetration of the USB-C™ connector is expected to have a compound annual growth rate (CAGR) of 74.1% from 2016-2021.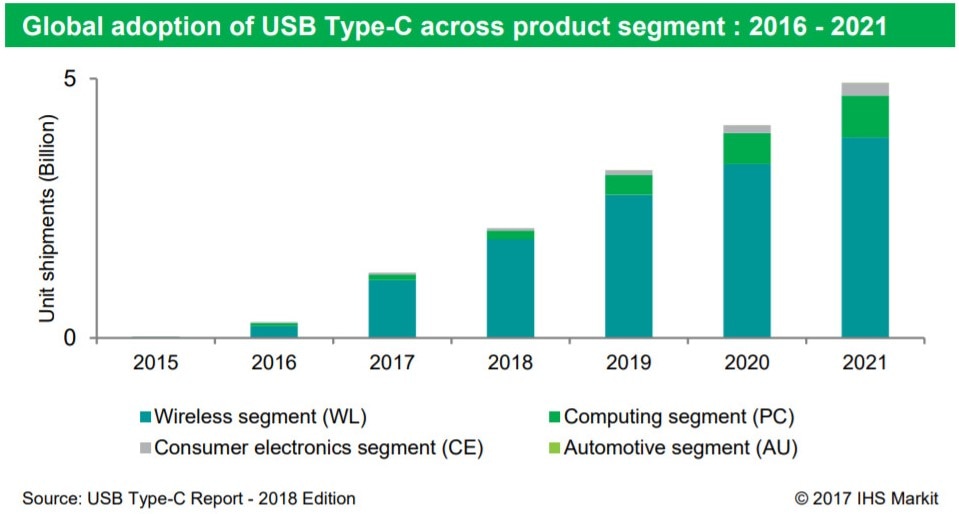 USB-C is redefining the electronics industry with its symmetric, universal connector which conveniently cannot be plugged in upside down or backward. As USB-C adoption increases, the types of cables found in households will decline, alleviating the frustration of searching for the "right" cable.
As USB-C infiltrates the electronics industry more and more, it challenges semiconductor suppliers to innovate and improve on the solutions they offer the market. Power adapters are becoming smaller, more efficient, and capable of higher power charging. ON Semiconductor is keeping up with these market trends by understanding industry needs and developing integrated solutions to meet those needs. ON Semiconductor's continued leadership in power management and USB-C solutions culminates with this first integrated synchronous rectifier and autonomous USB-C™ PD 3.0 and Programmable Power Supply (PPS) controller product for ease of secondary side system design.
ON Semiconductor recently released the FAN6390, which is a device compliant with the latest USB-C PD 3.0 and PPS standards for the mobile and ultraportable AC/DC power adapters. The PPS standard is of particular interest to power designers as it provides a finer level of granularity for charging levels across the specified PD power range. The device being charged can now request voltages anywhere within the range of 3.3V to 21V in tiny 20mV increments and request constant current limiting anywhere in the range from 1A to 5A in 50mA increments.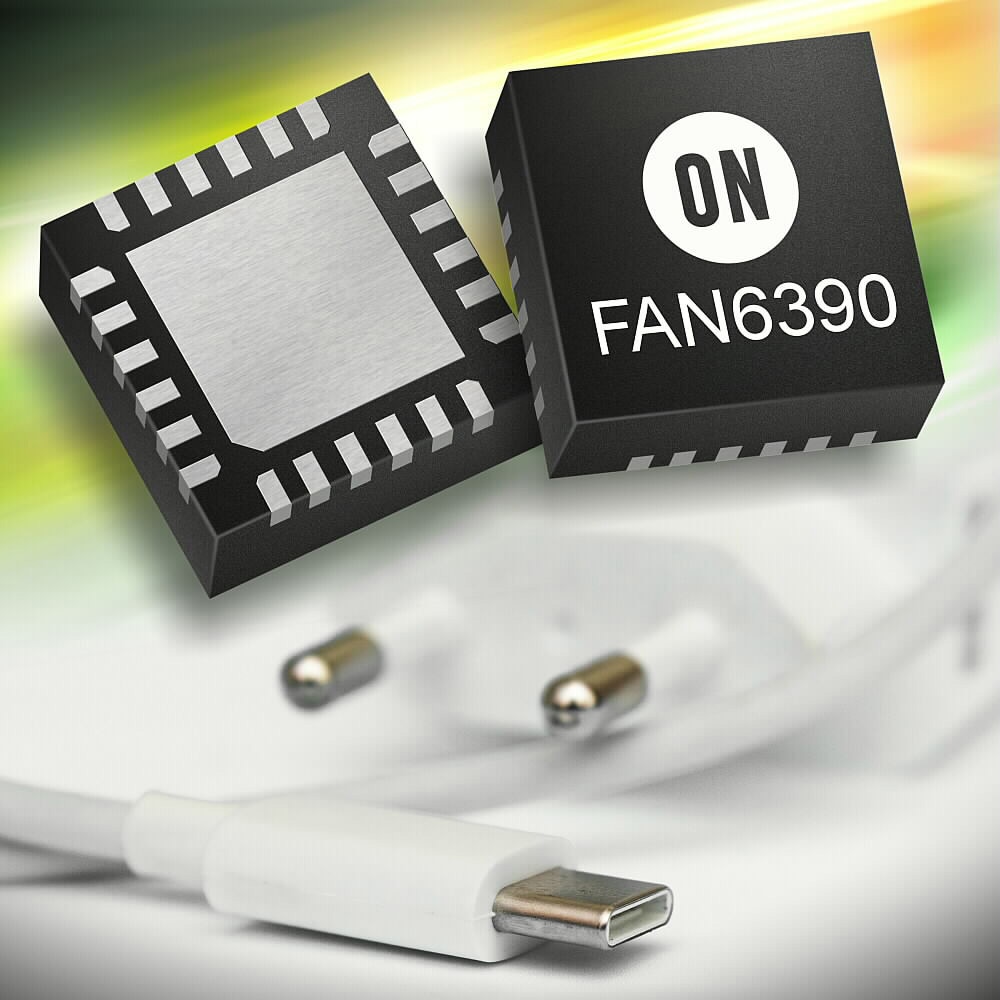 This product simplifies adaptation to the latest standards by integrating the PHY, protocol and policy layers in a monolithic solution. There's no need for firmware programming or microcontroller dependence with this solution as all necessary functionality is included. Due to higher levels of integration, this solution enables higher power density design, while minimizing the number of devices on the build of materials (BOM). With fewer devices on a BOM, the designer has more flexibility of device placement and can minimize the required PCB area.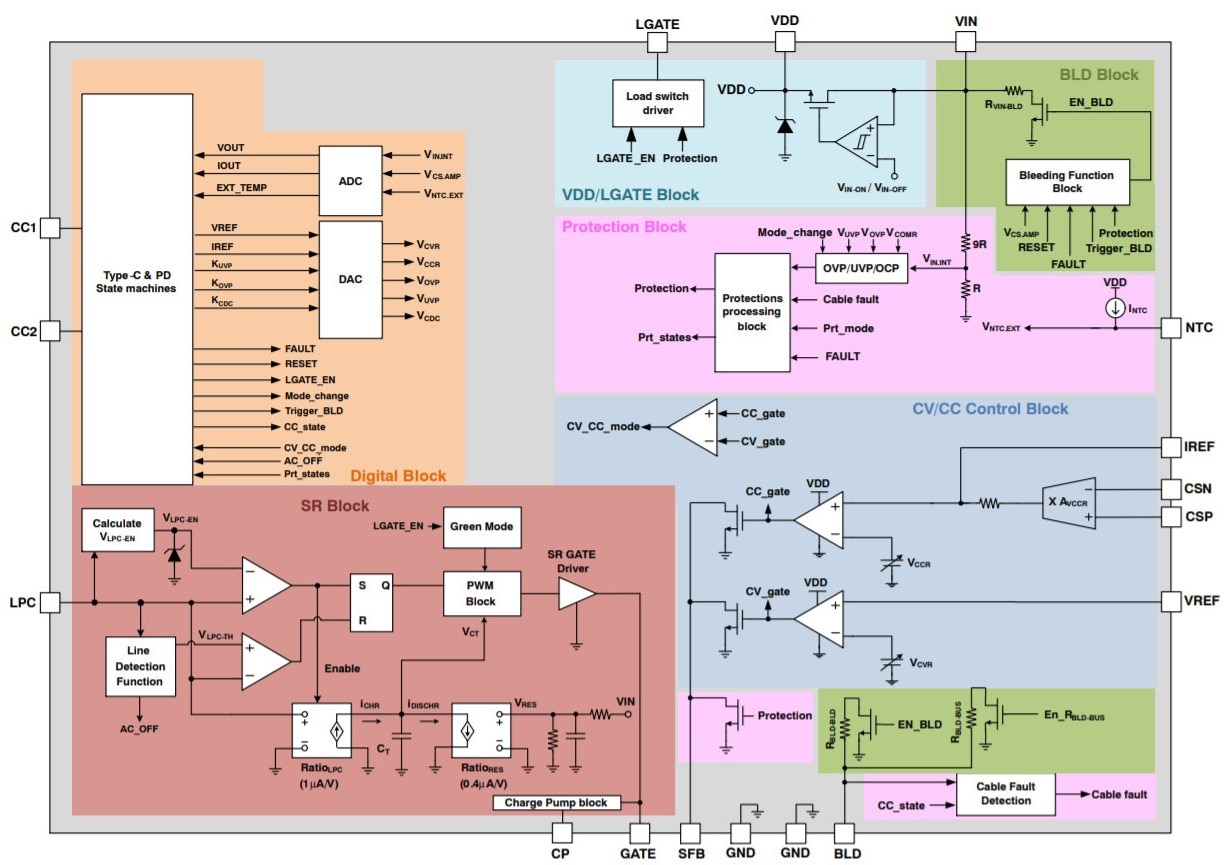 The FAN6390 is the first in a family of USB-C™ PD 3.0 with PPS controllers to be offered by ON Semiconductor. The trend of higher capacity batteries requiring the same or faster charging times is accelerating the adoption of USB-C™ PD 3.0 / PPS. The family of FAN6390 products enables an impressive level of integration which will enhance industrial design and improves power density for various objects such as travel adapters, AC-DC power adapters and auxiliary as well as housekeeping power supplies for various electronic devices. The optimized architecture provides state machine-based operation for all features required for PD 3.0 and PPS functionality lending to ease of end product design and manufacturing. The FAN6390 yields high efficiency by utilizing a very low 5mΩ sense resistor. Efficiency is further improved through industry-leading synchronous rectifier FET driving techniques. The FAN6390 can also provide designers with flexibility and programmability through trim optioning.
The PPS Constant Current / Constant Voltage (CC/CV) requirements were meticulously addressed through an internal, high-resolution 10-bit DAC that is fully compliant with the USB-C™ PD 3.0 requirements. Additionally, the FAN6390 provides N-FET drivers, temperature monitoring and VCONN LDOs to further simplify system requirements and minimize overall BOM cost.
ON Semiconductor not only minimizes system complexity with solutions such as the FAN6390 but also provides customers with comprehensive reference designs for fast and efficient optimization of new systems.
The FAN6390 is paired with the FAN604H PWM controller for a flexible 27W reference design. is also available including the FAN6390 and FAN604 PWM controller.
Be sure to check out our FAN6390 design resources!
Learn more about our USB-C Solutions today and how they can fulfill your design and solution needs in various applications such as travel adapters, AC-DC power adapters and auxiliary as well as housekeeping power supplies for various electronic devices.

reaction successful
コメント
Wade
2020-04-26 00:00

コメント・レーティング:

0
Just got it