The document you are trying to download is gated.
Log into MyON to proceed.
NCP7800: Linear Voltage Regulator, 1 A, High PSRR
The NCP7800 series consists of 3 pin, fixed output, positive linear voltage regulators, suitable for a wide variety of applications. These regulators are extremely rugged, incorporating internal current limiting, thermal shutdown and safe-area compensation. With adequate heat sinking they can deliver output currents in excess of 1.0 A. Designed as direct replacements for the popular MC7800 family, these products offer enhanced ESD protection.
特長
利点

Output Current in Excess of 1.0 A

Suitable for a very wide variety of applications

No External Components Required

Simple to design with and very cost effective

Internal Thermal Overload Protection

Can be used under a wide variety of operating conditions

Internal Short Circuit Current Limiting

Available in Standard 3 Lead Transistor Packages

Excellent power dissipation

Enhanced ESD Tolerance: HBM 4 kV (5 V and 8 V Options), 3 kV(12 V and 15 V Options), and MM 400 V

Reduced risk of damage during end product assembly

These are Pb-Free Devices

Meets regulatory requirements and is environmentally friendly

Output Transistor SafeArea Compensation

Output Voltage Offered in 4% Tolerance

For Tighter Tolerances and Extended Operating Range Refer to MC7800
アプリケーション
最終製品

Power supplies
On board post regulation
Industrial and consumer applications

Fridges, air conditioning, domestic appliances
TV, Set top boxes, Antenna drivers
Case Outline
NCP7805ETG
Active
Linear Voltage Regulator, 1 A, High PSRR
TO-220-3
221AB
NA
Tube
50
$0.158
NCP7805TG
Lifetime
Linear Voltage Regulator, 1 A, High PSRR
TO-220-3
221AB
NA
Tube
50
$0.1496
NCP7808TG
Active
Linear Voltage Regulator, 1 A, High PSRR
TO-220-3
221AB
NA
Tube
50
$0.2068
NCP7812ETG
Active
Linear Voltage Regulator, 1 A, High PSRR
TO-220-3
221AB
NA
Tube
50
$0.158
NCP7812TG
Lifetime
Linear Voltage Regulator, 1 A, High PSRR
TO-220-3
221AB
NA
Tube
50
$0.1751
NCP7815TG
Active
Linear Voltage Regulator, 1 A, High PSRR
TO-220-3
221AB
NA
Tube
50
$0.1813
| | | |
| --- | --- | --- |
| マーケットリードタイム(週) | : | Contact Factory |
| ON Semiconductor (2020-07-08) | : | 6,850 |
| | | |
| --- | --- | --- |
| マーケットリードタイム(週) | : | 4 to 8 |
| FutureElectronics (2020-07-08) | : | >1K |
| | | |
| --- | --- | --- |
| マーケットリードタイム(週) | : | Contact Factory |
| ON Semiconductor (2020-07-08) | : | 7,350 |
| | | |
| --- | --- | --- |
| マーケットリードタイム(週) | : | 2 to 4 |
| ON Semiconductor (2020-07-08) | : | 7,750 |
Product
Description
Pricing ($/Unit)
Compliance
Status
Output
Polarity
VO (V)
IO Typ (A)
VI Min (V)
VI Max (V)
VDO Typ (V)
Iq Typ (mA)
PSRR (dB)
Noise (µVrms)
Enable
PowerGood
Package Type
Case Outline
221AB
パッケージ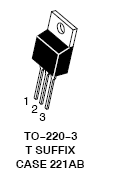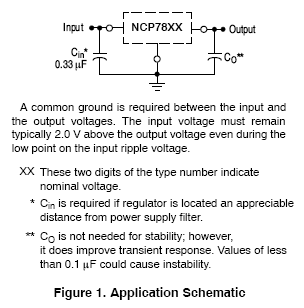 新製品
NCV8187
:
1.2 A LDO Regulator
Low Iq of 30 µA typical over full temperature range
High PSRR of 85 dB at 1 kHz for power stability
Low noise of 9 µV(RMS)
NCV8730
:
150 mA LDO Regulator
Low quiescent current of 1 µA typical, and shutdown current of 100 nA typical
Wide operating input voltage range of 2.7 to 38 V
Low dropout of 290 mV typical @ 150 mA, 3.3 V