The document you are trying to download is gated.
Log into MyON to proceed.
NCV4275: 450 mA LDO リニア電圧レギュレータ (リセット/遅延対応)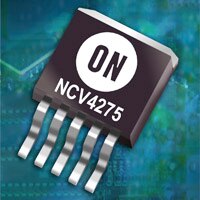 この業界標準リニア・レギュレータは、5 V で最大の 450 mA 負荷を駆動できます。リセットと調整可能遅延リセットでマイクロコントローラとインタフェースします。このデバイスは、新しい設計の NV4275A に置き換わります。NCV4275 と NCV4275A のいずれも Infineon (部品番号 TLE4275) とピン互換です。DPAK および D2PAK 5 リードで提供します。推奨される置き換えは次のとおりです。- NCV4275DTRKG を NCV4275ADT50RKG (DPAK) で置き換え - NCV4275DSR4G を NCV4275ADS50R4G (D2PAK、テープ/リール) で置き換え - NCV4275DSG を NCV4275ADS50G (D2PAK、レール) で置き換え
特長
利点

5V +/-2% Output Voltage with output current up to 450mA

Tight regulation perfect for powering microprocessors

Active Reset with Adjustable Delay
Reset Low Down to 1V input voltage

Prohibits the microprocessor from performing unrequested tasks at low voltage.

500mV (max) Dropout Voltage

Regulates during cranking.

Protections:
+45V Peak Transient Voltage
-42V Reverse Voltage


No external components required to enable protections required within any automotive applications.

Meets automotive qualification requirements.
アプリケーション
最終製品

Body and Chassis
Engine Controle Unit
Powertrain
Case Outline
NCV4275DSR4G
Obsolete

AEC Qualified
PPAP Capable
Pb-free
Halide free

450 mA LDO Linear Voltage Regulator with Reset and Delay, 5.0 V
D2PAK-5
936A-02
1
260
Tape and Reel
800
NCV4275DTRKG
Obsolete

AEC Qualified
PPAP Capable
Pb-free
Halide free

450 mA LDO Linear Voltage Regulator with Reset and Delay, 5.0 V
DPAK-5
175AA
1
260
Tape and Reel
2500
| | | |
| --- | --- | --- |
| マーケットリードタイム(週) | : | Contact Factory |
| PandS (2020-07-14 00:00) | : | >1K |
| | | |
| --- | --- | --- |
| マーケットリードタイム(週) | : | Contact Factory |
| PandS (2020-07-14 00:00) | : | >1K |

新製品
NCV8730
:
150 mA LDO Regulator
Low quiescent current of 1 µA typical, and shutdown current of 100 nA typical
Wide operating input voltage range of 2.7 to 38 V
Low dropout of 290 mV typical @ 150 mA, 3.3 V
NCV8187
:
1.2 A LDO Regulator
Low Iq of 30 µA typical over full temperature range
High PSRR of 85 dB at 1 kHz for power stability
Low noise of 9 µV(RMS)