NVG800A75L4DSC: VE-Trac Dual - Dual Side Cooling Half-Bridge Power Module for Automotive, 750V, 800A, 90° Power Tabs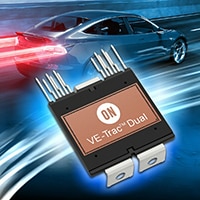 The NVG800A75L4DSC is part of a family of power modules with dual side cooling and compact footprints for Hybrid (HEV) and Electric Vehicle (EV) traction inverter application. The module consists of two Field Stop 4 (FS4) Narrow Mesa IGBTs in a half-bridge configuration. The chipset utilizes the new narrow mesa IGBT technology in providing high current density and robust short circuit protection with higher blocking voltage to deliver outstanding performance in EV traction applications. A dual-side liquid cooling heatsink reference design along with a complete inverter kit (NVG800A75L4-EVK) is available to enable easier design in.
特長
利点

Half Bridge Dual-Side Cooling

Scalable, Modular, and Compact

Ultra-Low Stray Inductance

Tj_max = 175°C continuous operation

Higher Inverter Peak Output Power

Low VCESAT and Switching losses

Improved Inverter Efficiency

AQG324 Qualified FS4 750V Narrow Mesa IGBT

Optimized for Automotive Traction Applications

Smart On Chip Current and Temperature Sensor

Fast Reaction Time and Better Accuracy

Longer Power Cycle and Operation Lifetime
アプリケーション
最終製品

Converter DC Battery Output to Power AC Traction Motors
High Power DC-DC Converter

Main Traction Inverter for Battery Electric Vehicle, Plug-in Hybrid Vehicles, and Full Hybrid Vehicles
| | | |
| --- | --- | --- |
| | | Interactive Block Diagram |
Case Outline
NVG800A75L4DSC
Active

AEC Qualified
PPAP Capable
Pb-free
Halide free

NVG800A75L4DSC
AHPM15-CEA
100DD
NA
Tube
6
$179.9955
| | | |
| --- | --- | --- |
| マーケットリードタイム(週) | : | Contact Factory |
Product
Description
Pricing ($/Unit)
Compliance
Status
Configuration
VBR Max (V)
Rated Current (A)
VCE(sat) Typ (V)
VF Typ (V)
Application
Package Type
NVG800A75L4DSC
$179.9955
Active
新製品
NVH820S75L4SPB
:
Single Side Direct Cooling 6-Pack Power Module, Automotive, 750 V, 820 A
Direct cooling with integrated Pin-Fin Heatsink offers low system cost
Highly integrated 6-pack topology for easy design and system integration
Tjmax = 175°C continuous operation temperature enables higher inverter peak output power
NVG800A75L4DSC
:
Power Module, Half-Bridge, Dual Side Cooling, Automotive, 750 V, 800 A
Half bridge dual-side cooling in a scalable, modular, and compact package
Smart On Chip current and temperature sensor offer fast reaction time and better accuracy
Wirebond-Free structure enables longer power cycle and operation lifetime
Your request has been submitted for approval.
Please allow 2-5 business days for a response.
You will receive an email when your request is approved.
Request for this document already exists and is waiting for approval.