Product Longevity Program
The Product Longevity Program guarantees a stable supply of products for your designs. Participating products are available for a minimum of 5 years from product launch. ON Semiconductor has 15 years from product launch for many products developed for the Automotive, Medical and Industrial Segments, and are supported by standard end-of-life notification policies.
Longevity products remain in the program even if the manufacturing site changes. We manufacture a number of facilities, including our own factories and qualified outside fabs.
Is your part Gold Seal assured?
✔ NO EOL*

✔ Targeted support within <10 weeks LT ***
10 Year Longevity Commitment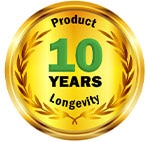 ON Semiconductor provides a minimum longevity commitment
of 10 years for a set of products listed below.
| Product ID | Package | Product Description |
| --- | --- | --- |
| NCP114AMX180TCG | UFN | LDO Regulator, 300 mA, High PSRR |
| NCP114AMX280TCG | UFN | LDO Regulator, 300 mA, High PSRR |
| NCP114AMX300TCG | UFN | LDO Regulator, 300 mA, High PSRR |
| NCP114AMX330TCG | UFN | LDO Regulator, 300 mA, High PSRR |
| NCP114AMX120TCG | UFN | LDO Regulator, 300 mA, High PSRR |
| NCP114ASN180T2G | TSOPS | LDO Regulator, 300 mA, High PSRR |
| NCP114ASN330T2G | TSOPS | LDO Regulator, 300 mA, High PSRR |
| NCP114ASN280T2G | TSOPS | LDO Regulator, 300 mA, High PSRR |
| LP2951ACDR2G | SOIC8 | Linear Voltage Regulator, 100 mA, High PSRR, Adjustable, Positive |
| LP2951CDR2G | SOIC8 | LDO Regulator, 100 mA, 30V, Micropower, with Shutdown |
| LP2951CD-3.3R2G | SOIC8 | LDO Regulator, 100 mA, 30V, Micropower, with Shutdown |
| LP2951ACD-3.3R2G | SOIC8 | LDO Regulator, 100 mA, 30V, Micropower, with Shutdown |
| NCP160AMX280TBG | XFN | LDO Regulator, 250 mA, Ultra-High PSRR, Ultra-Low Noise |
| NCP161AMX280TBG | XFN | LDO Regulator, 450 mA, Ultra-High PSRR, Ultra-Low Noise |
| NCP160AMX180TBG | XFN | LDO Regulator, 250 mA, Ultra-High PSRR, Ultra-Low Noise |
| NCP160AMX330TBG | XFN | LDO Regulator, 250 mA, Ultra-High PSRR, Ultra-Low Noise |
| NCP160AMX300TBG | XFN | LDO Regulator, 250 mA, Ultra-High PSRR, Ultra-Low Noise |
| NCP163AMX180TBG | XFN | LDO Regulator, 250 mA, Ultra-High PSRR, Ultra-Low Noise |
| NCP163AMX330TBG | XFN | LDO Regulator, 250 mA, Ultra-High PSRR, Ultra-Low Noise |
| NCP170AMX330TCG | XFN | LDO Regulator, 150 mA, Ultra-Low Iq |
| NCP170AMX280TCG | XFN | LDO Regulator, 150 mA, Ultra-Low Iq |
| NCP170AMX180TCG | XFN | LDO Regulator, 150 mA, Ultra-Low Iq |
| NCP170AMX300TCG | XFN | LDO Regulator, 150 mA, Ultra-Low Iq |
| NCP1117ST33T3G | SOT223 | LDO Regulator, 1 A, Fixed and Adjustable, Positive |
| NCP1117ST50T3G | SOT223 | LDO Regulator, 1 A, Fixed and Adjustable, Positive |
| NCP1117DT50RKG | DPAK | LDO Regulator, 1 A, Fixed and Adjustable, Positive |
| NCP1117DT33RKG | DPAK | LDO Regulator, 1 A, Fixed and Adjustable, Positive |
| NCP1117STAT3G | SOT223 | LDO Regulator, 1 A, Fixed and Adjustable, Positive |
| NCP1117DTARKG | DPAK | LDO Regulator, 1 A, Fixed and Adjustable, Positive |
| Product ID | Package | Product Description |
| --- | --- | --- |
| LM317LBDR2G | SOIC8 | Linear Voltage Regulator, 100 mA, High PSRR, Adjustable, Positive |
| LM317LDR2G | SOIC8 | Linear Voltage Regulator, 100 mA, High PSRR, Adjustable, Positive |
| LM317MDTRKG | DPAK | Linear Voltage Regulator, 500 mA, High PSRR, Adjustable, Positive |
| LM317MBDTRKG | DPAK | Linear Voltage Regulator, 500 mA, High PSRR, Adjustable, Positive |
| LM317BTG | T0220 | Linear Voltage Regulator, 1.5 A, High PSRR, Adjustable, Positive |
| LM317MABDTRKG | DPAK | Linear Voltage Regulator, 500 mA, High PSRR, Adjustable, Positive |
| MC78L05ABDR2G | SOIC8 | Linear Voltage Regulator, 100 mA, 5 to 24 V, Positive |
| MC78L05ACDR2G | SOIC8 | Linear Voltage Regulator, 100 mA, 5 to 24 V, Positive |
| MC78M05CDTRKG | DPAK | Linear Voltage Regulator, 500 mA, 5 to 24 V, High PSRR, Positive |
| MC78M05BDTRKG | DPAK | Linear Voltage Regulator, 500 mA, 5 to 24 V, High PSRR, Positive |
| MC7805CTG | T0220 | Linear Voltage Regulator, 1 A, 5 to 24 V, Positive |
| MC7805BDTRKG | DPAK | Linear Voltage Regulator, 1 A, 5 to 24 V, Positive |
| MC7812CTG | T0220 | Linear Voltage Regulator, 1 A, 5 to 24 V, Positive |
| MC78M05ABDTRKG | DPAK | Linear Voltage Regulator, 1 A, 5 to 24 V, Positive |
| MC78M05ACDTRKG | DPAK | Linear Voltage Regulator, 500 mA, 5 to 24 V, High PSRR, Positive |
| MC78M12CDTRKG | DPAK | Linear Voltage Regulator, 500 mA, 5 to 24 V, High PSRR, Positive |
| MC7805CDTRKG | DPAK | Linear Voltage Regulator, 500 mA, 5 to 24 V, High PSRR, Positive |
| MC79M05BDTRKG | DPAK-3 | LDO Regulator, 500 mA, 5 V, Negative |
| MC79M12BDTRKG | DPAK-3 | LDO Regulator, 500 mA, 5 V, Negative |
| MC79M15BDTRKG | DPAK-3 | LDO Regulator, 500 mA, 5 V, Negative |
| Product ID | Package | Product Description |
| --- | --- | --- |
| LM317LBDR2G | SOIC8 | Linear Voltage Regulator, 100 mA, High PSRR, Adjustable, Positive |
| LM2903DR2G | SOIC8 | Comparator, Dual, Low Offset Voltage |
| LM339DR2G | SOIC14 | Comparator, Quad, Single Supply |
| LM293DR2G | SOIC8 | Comparator, Dual, Low Offset Voltage |
| LM2901DR2G | SOIC14 | Comparator, Quad, Single Supply, 36 V |
| LM239DR2G | SOIC14 | Comparator, Quad, Single Supply, 36 V |
| Product ID | Package | Product Description |
| --- | --- | --- |
| LM317LBDR2G | SOIC8 | Linear Voltage Regulator, 100 mA, High PSRR, Adjustable, Positive |
| LM2903DR2G | SOIC8 | Comparator, Dual, Low Offset Voltage |
| LM2904DR2G | SOIC8 | Operational Amplifier, Single Supply, Dual |
| LM324DR2G | SOIC14 | Operational Amplifier, Single Supply, Quad |
| LM258DR2G | SOIC8 | Operational Amplifier, Single Supply, Dual |
| LM324ADR2G | SOIC14 | Operational Amplifier, Single Supply, Quad |
| LM2902DR2G | SOIC14 | Operational Amplifier, Single Supply, Quad |
| LM224DR2G | SOIC14 | Operational Amplifier, Single Supply, Quad |
| MC33202DR2G | SOIC14 | Operational Amplifier, Rail to Rail I/O, High Output Drive |
| MC33078DR2G | SOIC14 | Operational Amplifier, Low Noise, Dual |
| MC33178DR2G | SOIC8 | Operational Amplifier, Low Power, Low Noise, Dual |
| MC33079DR2G | SOIC14 | Operational Amplifier, Low Noise, Quad |
| MC33274ADR2G | SOIC14 | Operational Amplifiers, Single Supply, High Slew Rate, Low Input Offset Voltage, Quad |
| MC33072DR2G | SOIC8 | Operational Amplifier, Single Supply 3.0 V to 44 V, Dual |
| MC33172DR2G | SOIC8 | Operational Amplifier, Single Supply 3.0 V to 44 V, Low Power, Dual |
| MC33074DR2G | SOIC14 | Operational Amplifier, Single Supply 3.0 V to 44 V, Quad |
| MC34072DR2G | SOIC8 | Operational Amplifier, Single Supply 3.0 V to 44 V, Dual |
| MC33272ADR2G | SOIC8 | Operational Amplifiers, Single Supply, High Slew Rate, Low Input Offset Voltage, Dual |
| MC33072ADR2G | SOIC8 | Operational Amplifier, Single Supply 3.0 V to 44 V, Dual |
| MC33179DR2G | SOIC14 | Operational Amplifier, Low Power, Low Noise, Quad |
| MC33074ADR2G | SOIC8 | Operational Amplifier, Single Supply 3.0 V to 44 V, Quad |
| MC34074DR2G | SOIC8 | Operational Amplifier, Single Supply 3.0 V to 44 V, Quad |
| MC34074ADR2G | SOIC14 | Operational Amplifier, Single Supply 3.0 V to 44 V, Low Input Offset Voltage, Quad |
| MC34072ADR2G | SOIC8 | Operational Amplifier, Single Supply 3.0 V to 44 V, Low Input Offset Voltage, Dual |
| MC33174DR2G | SOIC14 | Operational Amplifier, Single Supply 3.0 V to 44 V, Low Power, Quad |
| MC33071DR2G | SOIC8 | Operational Amplifier, Single Supply 3.0 V to 44 V, Single |
| MC33171DR2G | SOIC8 | Operational Amplifier, Single Supply 3.0 V to 44 V, Low Power, Single |
| MC33077DR2G | SOIC8 | Operational Amplifier, Low Noise, Dual |
| MC33071ADR2G | SOIC8 | Operational Amplifier, Single Supply 3.0 V to 44 V, Single |
| MC34071DR2G | SOIC8 | Operational Amplifier, Single Supply 3.0 V to 44 V, Single |
| Product ID | Package | Product Description |
| --- | --- | --- |
| MBR0530T3G | SOD-123 | Schottky Power Rectifier, Surface Mount, 30 V, 2.0 A |
| MBR140SFT3G | SOD-123FL | Schottky Power Rectifier, Surface Mount, 1.0 A, 40 V |
| MBR230LSFT1G | SOD-123FL | Schottky Power Rectifier, Surface Mount, 30 V, 2.0 A |
| MBR2H100SFT3G | SOD-123FL | Schottky Power Rectifier, Surface Mount, 2.0 A, 100 V |
| MBRA160T3G | SMA | Schottky Power Rectifier, Surface Mount, 1.0 A, 60 V |
| MBRA2H100T3G | SMA | Schottky Power Rectifier, Surface Mount, 2.0 A, 100 V |
| MBRA340T3G | SMA | Schottky Power Rectifier, Surface Mount, 3.0 A, 40 V |
| MBRS230LT3G | SMB | Schottky Power Rectifier, Surface Mount, 2.0 A, 30 V |
| MBRS260T3G | SMB | Schottky Power Rectifier, Surface Mount, 2.0 A, 60 V, SMB Package |
| MBRS2H100T3G | SMB | Schottky Power Rectifier, Surface Mount, 2.0 A, 100 V |
| MBRS3200T3G | SMB | Schottky Power Rectifier, Surface Mount, 3.0 A, 200 V |
| MBRS360T3G | SMC | Schottky Power Rectifier, Surface Mount, 3.0 A, 60 V |
| MBRS3100T3G | SMC | Schottky Power Rectifier, Surface Mount, 3.0 A, 100 V |
| MBRS4201T3G | SMC | Schottky Power Rectifier, Surface Mount, Fast Soft-Recovery, 4.0 A, 200 V |
| MBRS540T3G | SMC | Schottky Power Rectifier, Surface Mount, 5.0 A, 40 V |
| MBRD5H100T4G | DPAK | Schottky Power Rectifier, Switch-mode, 5.0 A, 100 V |
| MBRD1035CTLT4G | DPAK | Schottky Power Rectifier, Switch-mode, 10 A, 35 V |
| MBRB20H100CTT4G | D2PAK | Schottky Barrier Rectifier, H-Series, 100 V, 20 A |
| MBRB41H100CTT4G | D2PAK | Schottky Barrier Rectifier, H-Series, 100 V, 40 A |
| Product ID | Package | Product Description |
| --- | --- | --- |
| MURA220T3G | SMA | Power Rectifier, Ultra-Fast Recovery, 2 A, 150 V |
| MURA260T3G | SMA | Power Rectifier, Ultra-Fast Recovery, 2 A, 600 V |
| MURS220T3G | SMB | Power Rectifier, Ultra-Fast Recovery, 2 A, 200 V |
| MURS260T3G | SMB | Power Rectifier, Ultra-Fast Recovery, 2 A, 600 V |
| MURS360BT3G | SMB | 600 V, 3.0 A Ultrafast Rectifier |
| MURS320T3G | SMC | Power Rectifier, Ultra-Fast Recovery, 3 A, 200 V |
| MURS360T3G | SMC | Power Rectifier, Ultra-Fast Recovery, 3 A, 600 V |
| MURD620CTT4G | DPAK | Power Rectifier, Ultra-Fast Recovery, Switch-mode, 6 A, 200 V |
* Min 10 year lifecycle support, 5 year LTB after notification, unless unforeseen manufacturing events.
*** Not to exceed 16 weeks in constrained environments