Selected ADAS, Viewing & Autonomous Vehicles Solution
戻る ADAS, Viewing & Autonomous Vehicles solution
Viewing & Sensing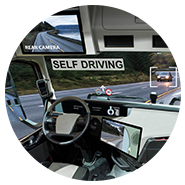 E-Mirror or Camera Monitor Systems (CMS) enhance or replace traditional mirrors on vehicles. These systems provide drivers with greater visibility, eliminate blind zones around the vehicle, reduce aerodynamic drag, and offer designers more options for future cabin designs and functionalities.
対話式ブロック・ダイアグラム
ON Semiconductor offers a complete solution for Automotive Imaging Sensor Systems powered from the vehicle battery that deliver power to the image sensor and transmit data to and from the imaging system to the Central Processing Unit which simplifies and speeds adoption in surround view camera application.


Products
The broad image sensor portfolio from ON Semiconductor provides options for camera manufacturers to satisfy the requirements of every possible end application from wearables and consumer electronics to demanding industrial and automotive applications.

The NCV8163 is an LDO (Low Dropout Regulator) capable of supplying 250 mA output current. Designed to meet the requirements of RF and analog circuits, the NCV8163 device provides low noise, high PSRR, low quiescent current, and very good load/line transients.

The FSA646 is a four-data-lane MIPI, D-PHY switch. This single-pole, double-throw (SPDT) switch is optimized for switching between two high-speed or low-power MIPI sources.

he NCV890430 is a fixed-frequency Synchronous Buck regulator intended for Automotive, battery-connected applications that operate with up to a 45 V input supply. It is suitable for automotive systems requiring low noise and low shutdown currents that also need to operate at low input voltage close to the output voltage.

With new requirements being added to the New Car Assessment Program (NCAP), Advanced Driver Assistance Systems (ADAS) require sensors with higher functionality to meet the evolving standards for car safety.

AP0200AT is a dedicated automotive image co-processor that enables flexible camera platforms using high performance ON Semiconductor megapixel high dynamic range (HDR) sensors.

NV25020 is a EEPROM Serial 2-Kb SPI - Automotive Grade 0 (+150°C) device internally organized as 256x8 bits. It features a 16−byte page write buffer and support the Serial Peripheral Interface (SPI) protocol. 

The Schottky Rectifier employs the Schottky Barrier principle in a large area metal-to-silicon power diode. The Schottky Rectifier's state-of-the-art geometry features epitaxial construction with oxide passivation and metal overlay contact.

Automotive Power MOSFET designed for compact and efficient designs and including high thermal performance.

Automotive Power MOSFET in a 3x3mm flat lead package designed for compact and efficient designs and including high thermal performance. 

Technical Documents
Almost all Advanced Driver Assistance Systems (ADAS) both today and in the foreseeable future are built primarily on machine vision to drive the decision process.