The document you are trying to download is gated.
Log into MyON to proceed.
MC100EP196: 3.3 V ECL Programmable Delay Chip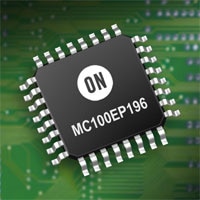 The MC100EP196 is a programmable delay chip (PDC) designed primarily for clock deskewing and timing adjustment. It provides programmably variable delay of a differential ECL input signal. It has similar architecture to the EP195 with the added feature of further tuneability in delay using the FTUNE pin. The FTUNE input takes an analog voltage from VCC to VEE to fine tune the output delay from 0 to 60 ps.
特長

Maximum Frequency > 1.2 GHz Typical

PECL Mode Operating Range: VCC = 3.0 V to 3.6 V with VEE = 0 V

NECL Mode Operating Range: VCC = 0 V with VEE = -3.0 V to -3.6 V

A Logic High on the ENbar Pin Will Force Q to Logic Low

D[0:10] Can Accept Either ECL, LVCMOS, or LVTTL Inputs

VBB Output Reference Voltage

Pb-Free Packages are Available
Case Outline
MC100EP196FAG
Active
3.3 V ECL Programmable Delay Chip
LQFP-32
2
260
Tray JEDEC
250
Contact Sales Office
MC100EP196FAR2G
Active
3.3 V ECL Programmable Delay Chip
LQFP-32
2
260
Tape and Reel
2000
Contact Sales Office
| | | |
| --- | --- | --- |
| マーケットリードタイム(週) | : | Contact Factory |
| Avnet (2020-08-06 00:00) | : | <100 |
| PandS (2020-08-06 00:00) | : | <100 |
| | | |
| --- | --- | --- |
| マーケットリードタイム(週) | : | Contact Factory |
Product
Description
Pricing ($/Unit)
Compliance
Status
Input Level
Output Level
VCC Typ (V)
fMax Typ (MHz)
td(prog) Min (ns)
td(prog) Max (ns)
td(step) Typ (ps)
tJitter Typ (ps)
tR & tF Max (ps)
Package Type
Case Outline
パッケージ