The document you are trying to download is gated.
Log into MyON to proceed.
NB4N441: PLL Clock Synthesizer, Multiprotocol, 3.3 V Serial Input, with Differential LVPECL Output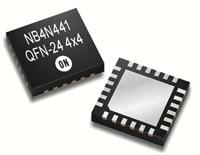 The NB4N441 is a precision clock synthesizer which generates a differential LVPECL clock output frequency from 12.5 MHz to 425 MHz. A Serial Peripheral Interface (SPI) is used to configure the device to produce one of sixteen popular standard protocol output frequencies from a single 27 MHz crystal reference. The NB4N441 also has the added feature of allowing application specific output frequencies from 12.5 MHz to 425 MHz using crystals within the range of 10 MHz to 28 MHz.
特長
利点

Allows Proprietary Frequencies

Allows for External Clock Reference

Exceeds Bellcore and ITU Jitter Generation Specification

Performs Precision Clock Generation and Synthesis from a Single 27 MHz Crystal Reference

Fully Integrated Phase Lock Loop with Internal Loop Filter
アプリケーション
Clock Generation for Networking, Workstations, and ATE
評価/開発ツール情報
| 製品 | 状態 | Compliance | 簡単な説明 | アクション |
| --- | --- | --- | --- | --- |
| NB4N441MNGEVB | Active | | Multi Protocol Clock Synthesizer with Serial Configuration Evaluation Board | |
Case Outline
NB4N441MNG
Active
PLL Clock Synthesizer, Multiprotocol, 3.3 V Serial Input, with Differential LVPECL Output
QFN-24
485L-01
1
260
Tube
92
Contact Sales Office
NB4N441MNR2G
Lifetime
PLL Clock Synthesizer, Multiprotocol, 3.3 V Serial Input, with Differential LVPECL Output
QFN-24
485L-01
1
260
Tape and Reel
3000
| | | |
| --- | --- | --- |
| マーケットリードタイム(週) | : | 2 to 4 |
| ON Semiconductor (2020-07-08 00:00) | : | 1,932 |
| PandS (2020-07-07 00:00) | : | <100 |
| | | |
| --- | --- | --- |
| マーケットリードタイム(週) | : | Contact Factory |
Product
Description
Pricing ($/Unit)
Compliance
Status
Input Level
Output Level
VS Typ (V)
fin Typ (MHz)
fout Typ (MHz)
tJitter(Cy-Cy) Typ (ps)
tJitter(Period) Typ (ps)
tJitter(Φ) Typ (ps)
tR & tF Typ (ps)
tR & tF Max (ps)
TA Min (°C)
TA Max (°C)
Package Type