RSL10: ラジオSoC、Bluetooth® 5認定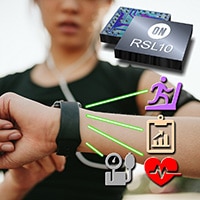 Customer Communication - "SweynTooth" BLE Cybersecurity Vulnerabilities
RSL10はBluetooth 5マルチプロトコル・ラジオSystem on Chip(SoC)で、超低電力のBluetooth Low Energyをワイヤレス・アプリケーションに導入するものです。電力消費が業界最低のRSL10では、高度なワイヤレス機能を可能にする一方でシステム・サイズとバッテリ寿命を最適化します。RSL10は1.2 Vの低電圧バッテリを使用するアプリケーション向けに設計されており、外部コンポーネントなしで1.1~3.3 Vの電源範囲をサポートします。高集積ラジオSoCはデュアルコア・アーキテクチャと2.4 GHzトランシーバを搭載、Bluetooth Low Energyと2.4 GHzカスタム・プロトコルをサポートする柔軟性があります。RSL10ソフトウェア開発キット(SDK)により、便利な抽象化、ブリンキーのドライバとサンプル・アプリケーションで完備されたBLE周辺機器、ありとあらゆるものを活用することで、超低電力Bluetooth LowEnergyアプリケーションの設計が加速します。
特長

Ultra-Low-Power:
- Industry's lowest power consumption in Deep Sleep Mode (62.5 nW) and Rx in Receive Mode (7 mW)
- Industry's best EEMBC® ULPMark™ scores (1090 ULPMark CP @ 3 V; 1260 @ 2.1 V)

Advanced Multi-Protocol Wireless Functionality:
- Rx Sensitivity: - 94 dBM
- Transmitting Power: -17 to +6 dBm
- Supports Bluetooth Low Energy and 2.4 GHz proprietary/custom protocols
- Supports Firmware Over The Air (FOTA)

Flexible Voltage Supply Range (1.1 and 3.3 V):
Supports devices using 1.2 and 1.5 V batteries without a required external DC/DC converter

Ultra-Miniature:
RSL10 is offered in a 5.50 mm2 WLCSP and a 6 x 6 mm QFN. For added miniaturization, the radio SoC is also available in a complete System-in-Package (SiP) solution.

Sophisticated Dual-Core Architecture:
Features a programmable Arm Cortex-M3 processor for clocking speeds up to 48 MHz and the flexibility to support 2.4 GHz proprietary and custom protocol stacks. An embedded Digital Signal Processor (DSP) enables signal processing intensive applications, such as wireless audio codecs.

On-Chip and Software Wireless Support:
Features a 2.4 GHz Radio Frequency Front-End (RFFE) and a Bluetooth 5 certified baseband controller which supports 2 Mbps data rates. A wide range of supported Bluetooth low energy protocols are provided in the RSL10 development tools kit.

Highly-Integrated System-on-Chip (SoC):
The powerful dual-core architecture is complemented by high-efficiency power management units, oscillators, flash, and RAM memories, a DMA controller, and peripherals and interfaces.

Other Key Technical Features:
- 384 kB of flash memory
- IP protection feature to secure flash contents
- Configurable analog and digital sensor interfaces (GPIOs, LSADs, I2C, SPI, PCM)
アプリケーション
最終製品

IoT Edge-Node Applications
Wearables
Energy Harvesting
Automotive Applications

Fitness Trackers/Activity Monitors
Smart Watches
Hearing Aids/Hearables
Heart Rate Monitors
Blood Glucose Monitors (BGM)
Continuous Glucose Monitors (CGM)
Pulse Oximeters
Smart Locks
Connected Lighting
評価/開発ツール情報
| | | |
| --- | --- | --- |
| FutureElectronics (2020-08-19) | : | 3 |
| | | |
| --- | --- | --- |
| FutureElectronics (2020-08-19) | : | 1 |
| Avnet (2020-08-19) | : | 1 |
| | | |
| --- | --- | --- |
| Avnet (2020-08-19) | : | 10 |
| FutureElectronics (2020-08-19) | : | 10 |
| | | | |
| --- | --- | --- | --- |
| | | | Interactive Block Diagram |
Case Outline
NCH-RSL10-101Q48-ABG
Active
RSL10, 48 Pin QFN
QFN-48
485BA
3
260
Tape and Reel
3000
$2.3999
NCH-RSL10-101WC51-ABG
Active
RSL10, 51 Bump WLCSP
WLCSP-51
567MT
1
260
Tape and Reel
5000
$3.9999
| | | |
| --- | --- | --- |
| マーケットリードタイム(週) | : | Contact Factory |
| ON Semiconductor (2020-09-02 00:00) | : | 21,000 |
| Avnet (2020-08-19 00:00) | : | >1K |
| FutureElectronics (2020-08-19 00:00) | : | <100 |
| | | |
| --- | --- | --- |
| マーケットリードタイム(週) | : | Contact Factory |
| Avnet (2020-08-19 00:00) | : | >1K |
Product
Description
Pricing ($/Unit)
Compliance
Status
Data Transmission Standard
Frequency Band (MHz)
Carrier Frequency (MHz)
Package Type
NCH-RSL10-101Q48-ABG
$2.3999
Active
NCH-RSL10-101WC51-ABG
$3.9999
Active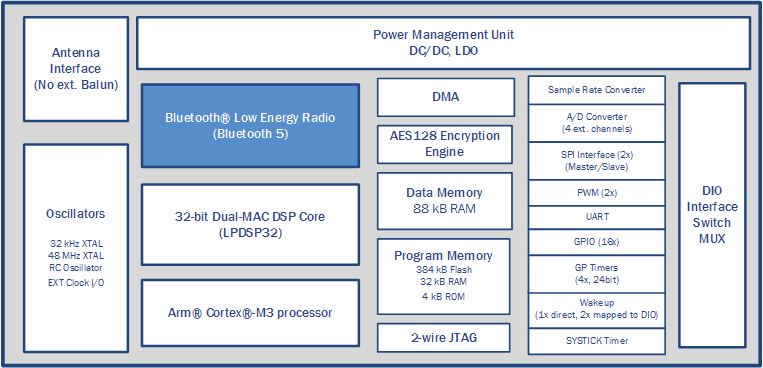 Application
Diagram - Block
Associated Products
Do you need a device with A ready-to-use System-in-Package, Bluetooth® 5 solution?
RSL10 SIP
Your request has been submitted for approval.
Please allow 2-5 business days for a response.
You will receive an email when your request is approved.
Request for this document already exists and is waiting for approval.